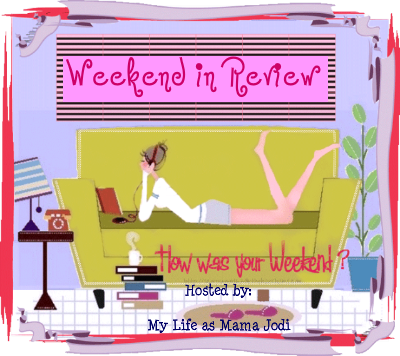 If you'd like to share your weekend, please visit Jodi at:

Friday ~ Did lots of cleaning because Lloyd's parents were coming over in the evening.  When they got here, we took them to see a house we've been looking at.  We came home, at pizza and had a nice visit with them.
Saturday ~ I didn't sleep well the night before so my morning was slow and unproductive.  In the afternoon, my mom came over and she, Lauryn and I went shopping.  I got a few shirts and a pair of jeans.  When we came home, my bff called and said she was coming over to bring me an iced caramel mocha coffee drink from McDonald's

  They'd made a mistake on her order and had given it to her for free so she came and brought it to me.  It was a very nice surprise…especially since I was just thinking of making some coffee since the night before was catching up to me.  We had tacos and Spanish rice for dinner.  The rest of the evening was spent relaxing.
Sunday ~ Another crummy night and not much sleep.  Laziest day EVER!  Lloyd did some work around the house, Lauryn had her toys EVERYWHERE and in the afternoon, I took a much needed nap.  I made meatloaf, mashed potatoes and gravy and homemade macaroni and cheese, per Lloyd's request.  Everything turned out yummy.  After cleaning the kitchen, the rest of the evening was as unproductive as the start of the day

Thank you for visiting my blog! Feel free to look around. You may find some yummy recipes to try, fun crochet patterns, tips and tricks, and silly things about my family. What you probably won't find are deeply profound posts or political rants. That's just not how I roll. :)