My poor punkin'!  She has a cold.  She started getting the sniffles last night and by this morning, it was a full blown cold.  Fortunately, she's in good spirits.  We actually got a little video of her walking today.  She's taking more and more steps every day.  I'll try to upload the video tomorrow

  I hope she sleeps well tonight and feels better in the morning.  I just took a dose of medicine because I'm started to feel a little yucky too!
Today felt weird.  Lloyd was home for four days in a row and when he went back to work today, the house felt really empty!  I missed him!  Even though the days off were pretty busy, it was so nice having him here so much!  Lauryn got so much extra "Dada time" too!
I've really been getting into that loom knitting!  I've made a few hats and a few scarves now.  I've found a bunch more patterns that I want to try.  There are sock patterns and teddy bear and doll ones.  The projects work up so quickly that I'm having a lot of fun with it.  Here is a hat I made recently.  It's an adult sized hat but I had the cutest little model for it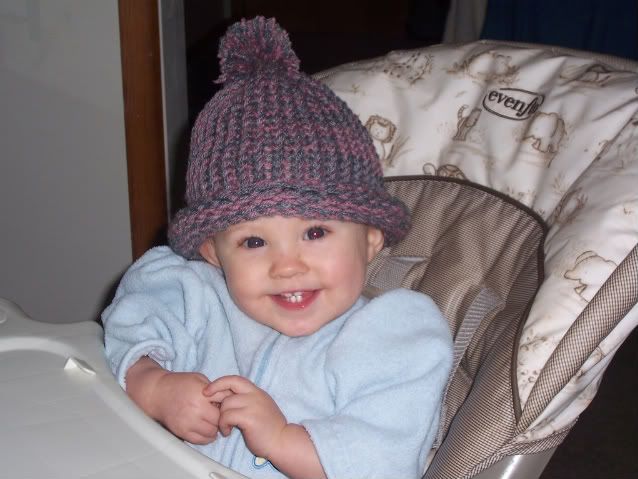 Thank you for visiting my blog! Feel free to look around. You may find some yummy recipes to try, fun crochet patterns, tips and tricks, and silly things about my family. What you probably won't find are deeply profound posts or political rants. That's just not how I roll. :)
4 Responses to "Not A Great Start To The Week"