1) One of my favorite TV shows recently changed the actors who played two characters. Have you ever been bothered by a TV show or movie series changing actors who play a character you love?
Yes!  I've watched Y&R for a long time and when they changed Malcolm, played by Shemar Moore, I didn't like it at all.  For one thing, I'm pretty much in love with Shemar Moore and secondly, they replaced him with the guy who played Eddie on Family Matters and he just didn't seem right.
2) Who do you feel is the most influential person of your generation in terms of music?
There are a lot of influential people in music.  I guess it just depends on what kind genre people listen to.
3) A coworker recently shared a link to a blog listing the "
five things you should know before dating a journalist
." As a journalist, I can honestly say the writer was spot-on. What are some things people should know before spending time with you?
I'm a bit quirky.  Nothing too extreme but I do some things that make my husband smile and shake his head

4) What is your opinion of denim jeans that are sold with pre-made rips and fading?
I don't mind those.  It's the ones that look dirty that bother me!
5) The United States Postal Service has announced a proposal to close many of its rural post offices. Are you someone who still goes to a post office? Would it upset you if your post office closed?
I do go to the post office from time to time but not enough that it would bother me if I couldn't.  There are other ways to get mail and packages sent.
6) What is something you often do without realizing that you're doing it?
Play with my hair.
7) Go to Urban Dictionary (
click here
), type in your first name, and paste one or two of your favorite definitions. The funnier the better.
LOL It said "Carielle isn't defined yet" so I'll go with Cari:
*A rampant sex beast – amazing in bed (Nice!)
*A crazy pyscho feminist who rages on most days about nothing in particular, leading you in circles going no where but confusion
8) The "
Smurfs
" movie hits U.S. theaters tomorrow, and I want to know … if you were a Smurf, what would your name be?
According to the Smurf Name Generator, found here, my name would be Tarty Smurf

9) With temperatures running above 100 degrees every day in my area, this topic has come up several times for me lately. Would you consider getting Botox injections to your armpits to decrease sweating?
Nope.  That's too weird for me.  I'd just get a stronger deodorant.
10) I spent a couple hours Wednesday night hiccuping. What is your remedy to cure the hiccups? Everyone always has a different solution and none of them work for me.
Usually holding my breath works for me but if it doesn't, then I take a few big gulps of water and that does the trick.
I finally put my phone number on the Do Not Call list.  Lately, I've been getting all kinds of weird calls from people trying to sell stuff and it's bugging the heck out of me.  It would be one thing if the calls were from a debt collection company or something but since I don't have to worry about those kind of calls, I only want my phone to ring if it's someone I know or about something important.  A lot of the calls have been about magazines or some random contests that I've apparently been entered in.  Now that I'm on the list, I hoping it stops.
That's what today's schedule consists of.  At some point, I plan on dusting, sweeping, vacuuming, mopping, washing windows, doing laundry, cleaning the kitchen and bathroom and during all of that, I will take breaks to play with Lauryn and read my book

  We have no other plans today so everything will get done in my own sweet time.  The kitchen sink needs a scrubbing badly.  It's clean but we have hard water and that makes it look gross.  Time to tackle it with some Comet.  I'm not a fan of using abrasives but Comet does the job nicely.
I am reading James Patterson's Alex Cross series right now.  I was never into detective-type books but I read one a while back and loved it.  I looked into the series and found that there are 17 of them so far.  I've read seven of them so far!  I plan to read his Women's Murder Club series when I'm done.
1) CBS debuted a show titled
"Same Name"
over the weekend which has famous people (including David Hasselhoff, Kathy Griffin, and Reggie Bush) switch places with everyday people with the same name. Do you share the same name with some famous person?
Nope.
2) If you do have (or theoretically if you did have) the same name as a celebrity, would you trade places with the celebrity for a while for a television show?
It might be fun for a day or so but I wouldn't want to deal with everyone in my personal business all the time.
3) Today (July 27) is Bugs Bunny's 71st birthday. What should he do to celebrate his birthday?
Go duck hunting

4) What has been your favorite movie so far this year?
I haven't seen any movies from this year.  I don't go to theaters because it's to expensive.  I'll either rent it when it comes out or watch it on my movie channels.
5) If you were a tour guide for your city, what three places would you take visitors to see?
The historic clock tower (they are trying to tear down), the silk mill and White's covered bridge.
6) How often do you screen your phone calls?
I don't really screen.  If I'm busy I'll call back otherwise I take all calls.
7)  27-year-old Amy Winehouse died over the weekend. Were you a fan of hers, or were you like me and barely knew anything about her until after she died?
The only thing I knew about her is her "Rehab" song and what I read about her lifestyle in my People magazine. 
8) Who is another celebrity you feel died too young?
Heath Ledger
9) If you had the power to decide people's fates, would you consider it a blessing or a curse and why?
Both!
10) Wanting to go to a taxidermist to get your dead dog/cat stuffed — normal or creepy?
Totally creepy!  I LOVE my dog but I couldn't imagine her hanging out in the house after she's dead.  That would just creep me out!
I was just reading an article in my Woman's Day magazine about vacations.  More specifically, women going on vacation.  The only vacation I've ever taken was my honeymoon.  We went on a western caribbean cruise, with Carnival Cruises.  It was amazing!  My husband and I had such a good time.  There was so much to do on the ship and the off shore excursions were fantastic.  We ended every night, with the same group of people, at the piano bar.  It was a blast!  Anyway, back to the article, it suggested that it was good for a woman to take some time away from her family and daily responsibilities.  While this idea sounds good in theory, I honestly don't know if I'd be able to do it!  Lauryn is two and a half now and I've never spent a single night away from her.  I know someday it will happen but I'm just not ready for it right now.  Not to mention, as much as I'd love to go on another cruise, I most certainly couldn't be away from her that long!  Lloyd and I will probably do it again but it will be when she is a little bit older.  As for getting away with a couple of girlfriends, maybe an overnighter or a weekend would be a better place to start.  I know that I could use it and I'm pretty sure some of my close friends could too!  It's definitely something to think about and I'd have to plan for.
When I was cleaning out my closet the other day, I came across a nurses uniform that was never worn but had a cute teddy bear pattern on it so I'd saved it.  I think when I'm taking breaks from working on the Christmas tree skirt, I'm going to use the uniform to make some pillows for Lauryn.  I've made pillows before but I've always sewn them by hand.  I think this will be a good, simple project for me to try to figure out my sewing machine on.  I know Lauryn will love the pillows with that cute pattern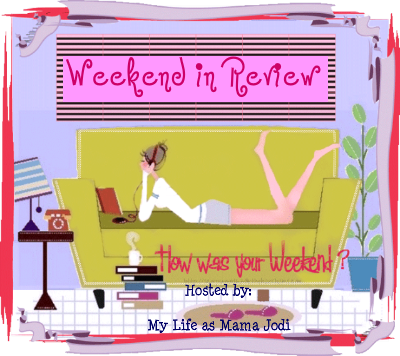 To participate in the fun weekend meme, please visit Jodi at:

Friday ~ Lauryn and I went to Grand Rapids so I could get my blood drawn again.  Still waiting for my hcg levels to go down.  On the way back, we visited Lloyd at his office for a few minutes.  We picked mom up and ran a few errands with her.  She came back to our house for a visit and stayed for dinner.  We had sloppy joes, shells and cheese and corn. 
Saturday ~ I had planned on being really productive on Saturday but it didn't work out as well as I'd hoped!

  After Lloyd got back from working on my mom's car, we went to get groceries.  Kathye met us down there and she kept Lloyd and Lauryn busy while I filled the cart

  Then she came back to the house and we talked for a bit.  I got Lauryn down for a nap and a little bit later I was feeling pretty sleepy so I took one too.  Lloyd woke me up at 7 pm and said that Lauryn had just gotten up too!!  I went and picked dinner up and after we ate we cleaned and worked around the house a bit.  Around 9:30 pm, we went to Shane and Trisha's for a bon fire.  We had a really nice time. 
Sunday ~ Started the day out cleaning and making a few things to go with dinner.  Our friends and their kids came over in the afternoon.  My cousin and her boyfriend came over for a little bit too.  Later, we had steaks, potatoes, and hot dogs on the grill with fresh veggies and dip and caramel apple salad for dinner.  I think I'm going to have to look for a diet pill that works after all of that! 

  After everyone left, we cleaned up, got Lauryn bathed and in bed and then we relaxed the rest of the evening.
Welcome back to
Sunday Stealing
which originated on
WTIT: The Blog
authored by Bud Weiser. Here we will steal all types of memes from every corner of the blogosphere. Our promise to you is that we will work hard to find the most interesting and intelligent memes. You may have heard of the expression, "honor amongst thieves". In that age-old tradition, we also have our rules. First, we always credit the blog that we stole it from and we will "fess up" to the blog owner where we stole the meme. We also provide a link to the victim's post. (It's our way of saying "Thanks!") We do sometimes edit the original meme, usually to make it more relevant to our global players, to challenge our players, sometimes to select that meme's best questions, or simply to make it less repetitive from either this new meme or recently asked questions from a prior featured meme.
Let's go!!!
Today we ripped off
a blogger named
Reyna Elena
from the blog of
Reyna Elena Dot Com
. She states that she was tagged thanks to
Moderately Confused Pinay.
But, it was probably stolen there as well. So, of course, that will be as far as we go. Tracing back our theft's thieves might take some time. Take the time to comment on other player's posts. It's a great way to make new friends! Link back to us at
Sunday Stealing!
Sunday Stealing: The Twenty-Fiver Meme
Cheers to all of us thieves!
1. Tell us about something that made you laugh last night.
The movie Half Baked.
2. What were you doing at 8 PM last night?
Probably starting to get my daughter ready for bed.
3. What were you doing 30 minutes ago?
A different meme.
4. What happened to you in 2006? (Feel free to republish an old post from '06.)
Heck if I can remember!

5. What was the last thing you said out loud?
I love you!
6. How many beverages did you have today?
A few.  Couple cups of coffee and water.
7. What color is your hairbrush?
Brown.
8. What was the last thing you paid for?
Groceries.
9. Where were you last night?
Home.
10. What color is your front door?
White.
11. Where do you keep your change?
In my wallet.
12. What's the weather like today?
Warm but there was a nice breeze.
13. What's the best ice-cream flavor?
Pumpkin Pie.
14. What excites you?
When my daughter learns something new. 
15. Do you want to cut your hair?
No.  I'm loving the length it's at right now.
16. Are you over the age of 35?
Nope.
17. Do you talk a lot?
Yes!
18. Do you watch
Franklin and Bash
?
I've seen one episode but I thought it was hilarious!
19. Do you know anyone named Steven?
Yes.
20. Do you make up your own words?
Yes, when my daughter was a baby.
21. Are you a jealous person?
No.
22. What does the last text message you received say?
Ok.
23. Where's the next place you're going to?
To my bedroom to go to sleep.
24. Who's the rudest person in your life?
A stranger.
25. Are you crushing on anyone that you shouldn't be?
Just a pro wrestler but Lloyd knows about it

Welcome to Saturday: 9. What we've committed to our readers is that we will post 9 questions every Saturday. Sometimes the post will have a theme, and at other times the questions will be totally unrelated. Those weeks we do "random questions," so-to-speak. We encourage you to visit other participants posts and leave a comment. Because we don't have any rules, it is your choice. We hate rules. We love memes, however, and here is today's meme!
1. Tell us about the most recent wedding you attended.
It was a very beautiful outdoor ceremony.
2. Do you enjoy attending weddings, or do they bore you to tears?
I enjoy them.
3. Does marriage in general make you feel confident and good inside, or skeptical?
Since I'm happily married, it makes me feel confident and good inside


4. Do you have a photo blog? (If so, feel free to share the link with us.)
There are photo's on my blog


5. Do you find yourself driving less due to the high gas prices?
Nope.  Still gotta get places.
6. What's the high temperature today where you are?
I think it was around 90, but I didn't watch the news or see anything about the weather today.
7. "It's not the heat, it's the humidity." Agree, or no?
YES!  It's the humidity that's hard to breath in, it's the humidity that makes my skin feel yucky and it's the humidity that makes my hair curl and frizz!
8. What's the hottest you've ever been in your life?
Probably when I was working at a restaurant.  Going into the kitchen on a hot day was pretty miserable!
9. Non-temperature related last question: In your opinion… who's hot?
Randy Orton!!!!

I finally decided that I am going to make a Christmas tree skirt.  I figured I have plenty of time to get it done so if my arm starts hurting, I can just put it away for a little while.  I'm excited about it!  I love making things we'll use for years and years

  Lauryn and I went and picked up the yarn today and I can' t wait to get started!
Lloyd and I have been talking a lot of getting our affairs in order.  Taking care of things like making out our wills, getting Burial Insurance, just making sure that everything is taken care of now, so it won't be a burden to anyone later. We've been looking in to a lot of different options like Aptus Insurance and IIX, among other places.  There are  a lot of decisions to be made, some easy some a bit tougher, but I'm glad we're talking about it now and getting it taken care of.  The most important thing is making sure Lauryn is taken care of if something were to happen.